Welcome to the home of the NYU Journal of International Law and Politics (JILP). This student-run publication is devoted to commentary on contemporary issues in international and comparative law. JILP features articles on international legal topics by leading scholars and practitioners, as well as notes, case comments, and book annotations written by Journal members.
---
November 29, 2015: 21st Annual Herbert Rubin and Justice Rose Luttan Rubin International Law Symposium Video Now Available Online
https://www.youtube.com/playlist?list=PLJkLD_s9pYabj6GtaGDmtS8QEsmTIBo8p
---
November 19, 2015: Constitution & Custom: Women's Rights and Access to Justice in Pluralistic Legal Societies                                                                                                   (21st Annual Herbert Rubin and Justice Rose Luttan Rubin International Law Symposium)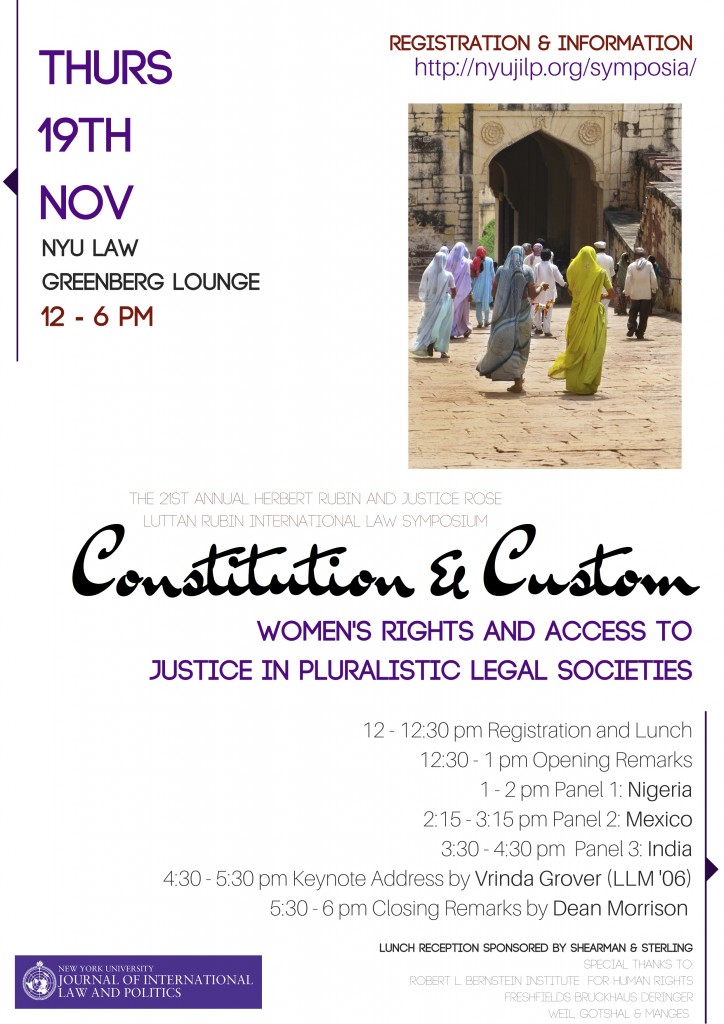 ---
November 11-12th: Online Symposium Co-Hosted by JILP & Opinio Juris
We are delighted to partner with Opinio Juris to present an online symposium, on November 11 and 12, discussing Professor Rachel Lopez's The (Re)collection of Memory after Mass Atrocity and the Dilemma for Transitional Justice, which was recently published in Volume 47, Number 4, of JILP. The article explores the tension between the preservation of collective memory and another impulse that follows mass atrocity: the desire for justice. It urges a fundamental rethinking of the law's preference for individual memory in the context of transitional justice.
On November 11, Opinio Juris will post Professor Lopez's article and comments on by several distinguished scholars, introduced below. On November 12, Professor Lopez will respond to the comments. We look forward to an illuminating discussion.
Professor Lopez is Assistant Professor of Law and Director of the Community Lawyering Clinic at Drexel University's Thomas R. Kline School of Law. Her research seeks to explain, analyze, and theorize about the unique role of justice after mass atrocities and how to better tailor transitional justice mechanisms to the specific needs of recovering societies. Her practice explores innovative ways to engage collectives to guide the substantive focus and strategies of her work.
Mark A. Drumbl is the Class of 1975 Alumni Professor of Law and Director of the Transnational Law Institute at Washington & Lee University, and Visiting Scholar at CICJ, VU University Amsterdam. In 2012, Professor Drumbl published Reimagining Child Soldiers in International Law and Policy (Oxford University Press). This ground-breaking book challenges much of conventional wisdom when it comes to preventing child soldiering, meaningfully reintegrating child soldiers, and engaging with former child solders as vibrant contributors to post-conflict reconciliation.
Naomi Roht-Arriaza is Distinguished Professor of Law, University of California, Hastings College of Law. Professor Roht-Arriaza is the author of The Pinochet Effect: Transnational Justice in the Age of Human Rights (2005) and Impunity and Human Rights in International Law and Practice (1995), and coeditor of Transitional Justice in the Twenty-First Century: Beyond Truth versus Justice (2006). She is a coauthor of The International Legal System: Cases and Materials (Foundation Press 2010).
Ruti G. Teitel is Ernst C. Stiefel Professor of Comparative Law at New York Law School and Visiting Professor at the London School of Economics. Professor Teitel's most recent book, Globalizing Transitional Justice (Oxford University Press), provides observations and insights on how the practice and discourse of transitional justice has been evolving, especially in relation to the rise of international criminal law and the increasing centrality of international human rights.
Johan D. van der Vyver is the I.T. Cohen Professor of International Law and Human Rights, Emory University School of Law, and Extraordinary Professor in the Department of Private Law, University of Pretoria. Professor van der Vyver is the author of many books and more than two hundred law review articles, popular notes, chapters in books, and book reviews on human rights and a variety of other subject matters.
---
November 19, 2015: Constitution & Custom: Women's Rights and Access to Justice in Pluralistic Legal Societies                                                                                                   (21st Annual Herbert Rubin and Justice Rose Luttan Rubin International Law Symposium)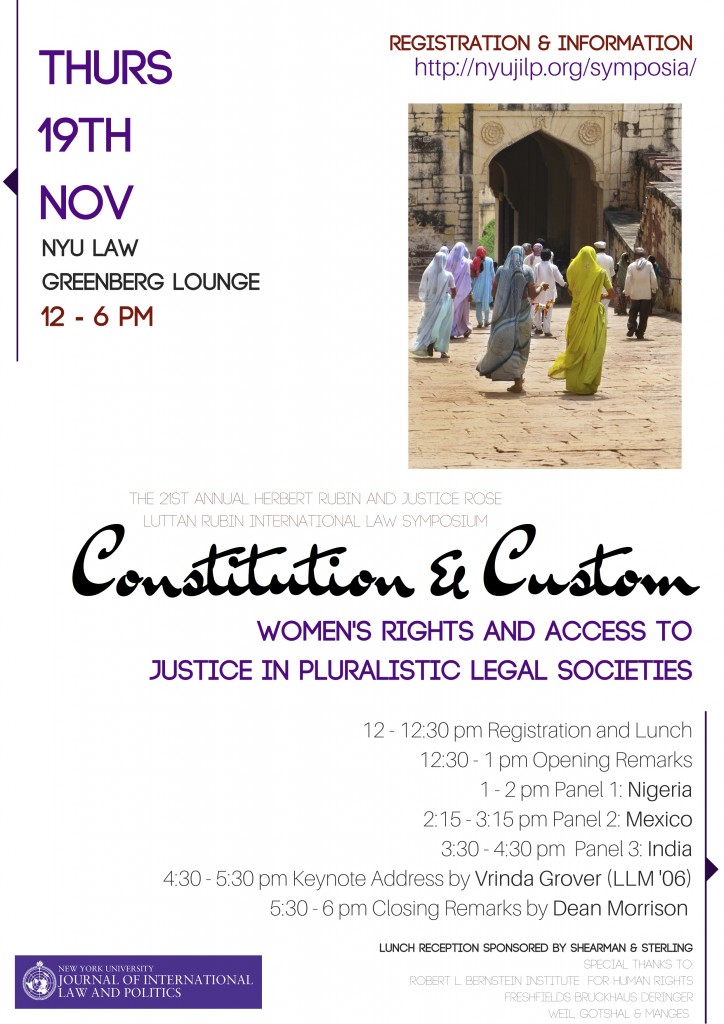 ---
November 6, 2014: The Human Rights of Migrants: From Treaty to Reality  (20th Annual Herbert Rubin and Justice Rose Luttan Rubin JILP Symposium)
Cosponsored by NYU Journal of International Law and Politics, Center for Human Rights and Global Justice (CHRGJ), Migration Policy Institute, Law Students for Human Rights at NYU Law, NYU Law Immigrant Rights Project, NYU Law International Law Society, and the NYU Anti Trafficking Advocacy Coalition.
This year's symposium will examine the potency of international human rights law within the United States. In particular, it will focus on how international human rights perspectives could help the U.S. and other nations reframe national immigration debates to find more humane and functional societal solutions than those currently in place. Please Register at: http://nyulaw.imodules.com/JILPSymposium2014
Up to 5 CLE Credits Available.
---
May 13-14, 2014: Online Symposium on Opinio Juris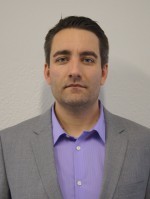 NYU Journal of International Law and Politics is proud to once again partner with Opinio Juris for an online symposium on May 13 and 14, 2014 around Jedidiah J. Kroncke's article, Property Rights, Labor Rights and Democratization: Lessons From China and Experimental Authoritarians. A number of scholars will respond to and discuss Professor Kroncke's article, including Professor Cynthia Estlund from NYU Law, Professor Eva Pils from the Chinese University of Hong Kong, Faculty of Law, and Professor John K. Ohnesorge from the University of Wisconsin Law School.
The abstract from Prof. Kroncke's article, published in Volume 46, Issue No. 1 of NYU JILP:
This Article argues that a fundamental paradox exists in efforts to promote democratization abroad that emphasize property rights to the exclusion of labor rights. Such a paradox emerges from the still-tenuous connection between property rights and foreign legal development alongside the renewed emphasis on independent unionization in democratization theory. The Article explores the paradox in action through the willingness of modern authoritarian regimes to experiment with rule of law reforms, and creatively so in the realm of property rights, while being uniformly repressive of associative labor rights. In this vein, the Article further details this paradox through the example of today's most successful experimental authoritarian, China's Chinese Communist Party. The CCP's approach to property rights reform is but one area where it has used formal legal regulation to improve its governance capacity and legitimacy. At the same time, the CCP has developed an expansive state-dominated corporatist labor regime while engaging in the unyielding repression of private labor organizing. The Article then outlines the implications of this promotion paradox and the authoritarian experience for U.S. influence on labor rights abroad, emphasizing the troubling parallels between the emphasis on employment law and employer selfregulation favored in authoritarian regimes and current trends in U.S. labor law. Beyond questioning dominant assumptions about the role of law in democracy promotion abroad, these parallels provocatively provide a new vantage point from which to consider the classic tension between property rights and labor rights in U.S. labor law doctrine.
Join us on May 13th and 14th at Opinio Juris!
---
Print Issue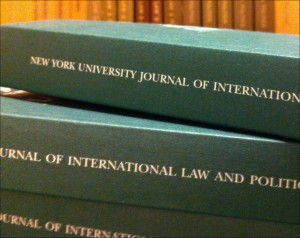 Our fall issue, Vol. 46, No. 2, is now available to view online. This issue includes pieces by Justin A. Fraterman on U.S. Material Support for Terrorism Laws and International Humanitarian Law and Patricia L. Judd on the TRIPS Balloon Effect,
To order a hard copy, please visit Subscriptions.
---
Book Review:
Alexander Ehrle, a former NYU JILP Graduate Editor, shares his critique of the book  Foreign Policy of the European Union—Assessing Europe's Role in the World, by Federiga Bindi and Irina Angelescu (eds.).  Accessible to both those who are new to this topic and the well-initiated, this book is a holistic and all-encompassing treatment of foreign relations in the European Union.  Read More…
---
THANK YOU!
Thank you to all who came to the NYU JILP & PluriCourts Fall 2013 Symposium on the Function of Judges and Arbitrators in International Law.  Special thanks to Herbert Rubin and Justice Rose Luttan Rubin for their continuing support of the NYU Law International Law Symposium.  We would also like to thank our faculty advisor Professor Jose Alvarez for his invaluable guidance and PluriCourts for their generous co-sponsorship.
There will be an upcoming issue of the print journal dedicated to this fascinating topc, so stay tuned!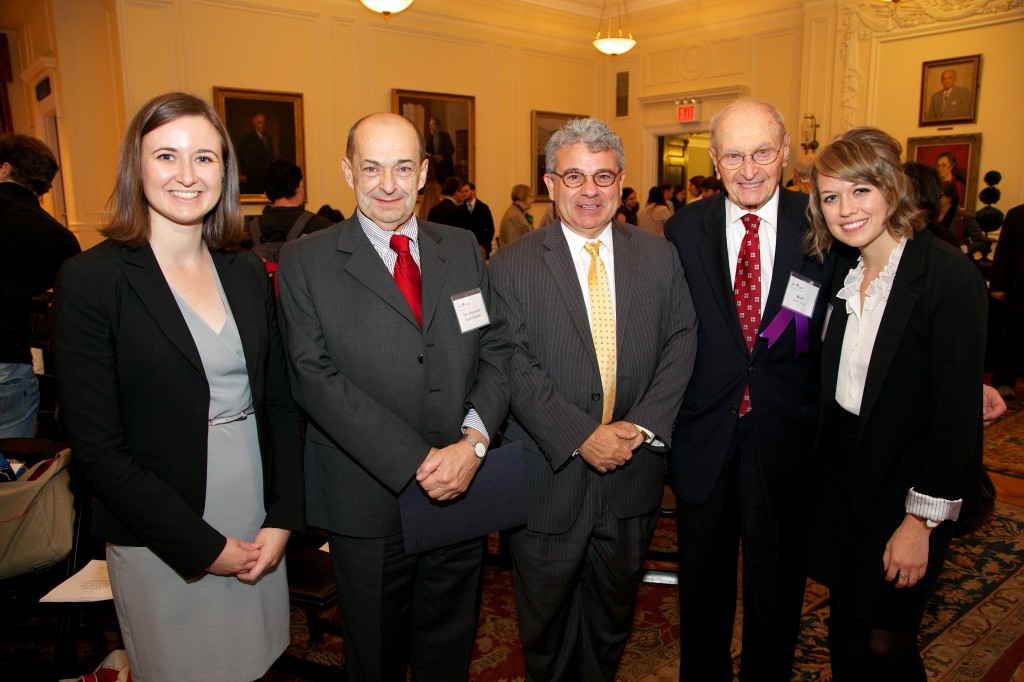 ---
Understanding the Kiobel v. Royal Dutch Petroleum Decision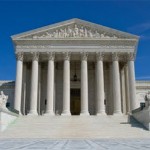 In response to the Supreme Court's decision in Kiobel v. Royal Dutch Petroleum, announced on Tuesday, April 17, NYU JILP shared comments and reactions by students, professors, and practitioners involved in Alien Tort Statute litigation.  See below for contributions to this dialogue.
Some Quick Thoughts on Transnational Human Rights Litigation in American Courts After Kiobel
Professor Burt Neuborne, the Inez Milholland Professor of Civil Liberties and founding Legal Director of the Brennan Center for Justice at NYU Law School, shares his thoughts on the future of transnational human rights litigation in the U.S.
Earlier Supreme Court Jurisprudence Shows Hope Not Lost for Those Seeking Corporate Accountability in U.S. Courts
3L student Carey Shenkman compares the split opinion in Kiobel to that in Branzburg v. Hayes and sees reason to hope that the Alien Tort Statute will remain a useful tool for international human rights litigants.
R.I.P. A.T.S.? How much of the Alien Tort Statute survives the Supreme Court's Kiobel Decision?
3L student and former NYU JILP board member Joseph Rome shares his reaction to the recently-published Kiobel v. Royal Dutch Petroleum opinion.
---
JILP Online Forum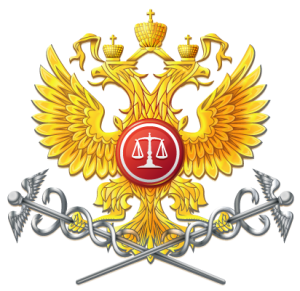 Yelena E. Archiyan recently wrote a piece about the unilateral option clause in Russian arbitration. To read her post, Fate of the Unilateral Option Clause Finally Decided in Russia, please visit the JILP Online Forum.