Book Review: The Least Worst Place (Karen Greenberg)
Con­tin­u­ing with the theme of armed con­flict, deten­tion, and ter­ror­ism, the lat­est install­ment in our occa­sion­al series of book reviews address­es Karen Greenberg's The Least Worst Place: Guantanamo's First 100 Days. This review may also be found in Issue 42:3 of the Jour­nal of Inter­na­tion­al Law and Pol­i­tics.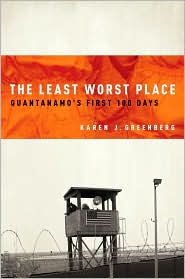 By John Wun­der­lin
In the pref­ace to The Least Worst Place: Guantanamo's First 100 Days, Karen Green­berg briefly sets out the aim of the book: to describe the ear­ly days of the Guan­tanamo Bay deten­tion facil­i­ty, in which few abus­es occurred despite incred­i­bly try­ing cir­cum­stances, and to ask whether this nar­ra­tive sheds any light on how lat­er abus­es came to occur and how such abus­es might be avoid­ed in the future. Per­haps in def­er­ence to the com­plex­i­ty and dif­fi­cul­ty of the sub­ject, Green­berg nev­er tries to for­mu­late the lessons as a set of pol­i­cy pre­scrip­tions. Nev­er­the­less, she suc­ceeds in devel­op­ing a strong under­stand­ing of how cer­tain forces and cir­cum­stances gath­ered to cre­ate a dis­as­ter at Guan­tanamo while oth­er forces worked to keep dis­as­ter at bay.
At the cen­ter of the sto­ry is Brigadier Gen­er­al Michael Lehn­ert, a marine assigned to set up and over­see the ini­tial oper­a­tion of Guan­tanamo Bay with vir­tu­al­ly no guid­ance from his mil­i­tary or polit­i­cal supe­ri­ors. Most of the nar­ra­tive focus­es on the tough deci­sions he and his clos­est advis­er faced dur­ing the first 100 days of Guan­tanamo. How­ev­er, Greenberg's scope is broad, and we also learn about the expe­ri­ences of actors rang­ing from ordi­nary army pri­vates to mem­bers of the Bush admin­is­tra­tion and their legal teams.
In the pref­ace, Green­berg states that this his­to­ry shows us "the human con­di­tion when it tends toward dig­ni­ty rather than dis­grace," and it is not hard to fig­ure out which per­son­al­i­ties she finds dig­ni­fied and which dis­grace­ful. The book is con­spic­u­ous­ly biased. At times the writ­ing is suf­fused with the lan­guage of val­ue: Green­berg speaks of dig­ni­ty and dis­grace, human­i­ty and dehu­man­iza­tion. How­ev­er, these val­ues emanate from sen­si­bil­i­ties that most read­ers will share: respect for the rule of law, a belief that pris­on­ers should be treat­ed humane­ly (espe­cial­ly when no evi­dence has been pre­sent­ed against them, much less a jury ver­dict), and a deep con­cern over abus­es of power—in this case, bru­tal­i­ty, indef­i­nite deten­tion, and tor­ture. This is a sto­ry about our deep­est val­ues, Green­berg seems to be insist­ing, and it would be a mis­take to tell it in pure­ly clin­i­cal terms.
At the same time, she does not speak in moral absolutes and acknowl­edges the risks and ben­e­fits of the poli­cies under
exam­i­na­tion. For exam­ple, one of the cen­tral nar­ra­tives of the book is the con­flict between Colonel Car­ri­co, the head of deten­tion oper­a­tions at Guan­tanamo, and Lehn­ert over the extent to which the offi­cials should seek to accom­mo­date some of the pris­on­ers' wish­es (for exam­ple, regard­ing reli­gious obser­vance or diet). Colonel Car­ri­co, the head of deten­tion oper­a­tions at Guan­tanamo, believes that a dis­play of unyield­ing author­i­ty with­out any shred of accom­mo­da­tion is nec­es­sary to main­tain order in the camp, where­as Lehn­ert favors a more accom­mo­dat­ing approach. This ten­sion comes to a head when the pris­on­ers begin a hunger strike after prison guards mis­treat the Koran twice in quick suc­ces­sion. Car­ri­co main­tains that the hunger strike is a prod­uct of exces­sive­ly lenient poli­cies: Lehn­ert has grant­ed so many of the pris­on­ers' requests that they have lost respect for his author­i­ty, and the only appro­pri­ate response is to clamp down aggres­sive­ly. Although Lehn­ert rec­og­nizes the force of Carrico's argu­ment, he ulti­mate­ly decides to put togeth­er a more con­cil­ia­to­ry response that suc­ceeds in reduc­ing the num­ber of strik­ers from near­ly a hun­dred to a dozen.
Typ­i­cal of her approach, Green­berg does not attempt to argue that Lehnert's approach is always bet­ter nor does she attempt to pro­vide guid­ance as to when a dis­ci­pli­nary approach is bet­ter than a con­cil­ia­to­ry approach, or vice ver­sa. Instead, she tells the sto­ry of how, in this instance, the more humane approach worked.
As not­ed above, one of Greenberg's goals is to iden­ti­fy some of the cru­cial fac­tors that led to the abus­es that occurred
at Guan­tanamo Bay and else­where in the War on Ter­ror. Sev­er­al fac­tors stand out in her nar­ra­tive, but one stands out
above all the oth­ers: the absence of the rule of law. This legal vac­u­um had, broad­ly speak­ing, two main com­po­nents. The first was that there sim­ply were not pre­ex­ist­ing laws to pro­vide guid­ance to admin­is­tra­tors. The mil­i­tary had not engaged in major deten­tion activ­i­ties since World War II and con­se­quent­ly had nei­ther the human exper­tise nor guide­lines need­ed to han­dle such activ­i­ties. If Lehn­ert and the oth­er prison admin­is­tra­tors want­ed to apply rules to the camp, they would either have to make the rules them­selves or bor­row rules from oth­er sources.
The sec­ond, and far more omi­nous, sense of "a legal vac­u­um" was the notion that no law should apply to the han­dling of the detainees. In fact, per­haps the pri­ma­ry rea­son that Guan­tanamo Bay was cho­sen as a deten­tion site was that it was a place in which nei­ther domes­tic nor for­eign law applied. In the ear­ly days fol­low­ing 9/11, the War Coun­cil (a group of close advis­ers to the pres­i­dent who effec­tive­ly dom­i­nat­ed deci­sions of nation­al secu­ri­ty law) put forth the argu­ment, based on a rad­i­cal inter­pre­ta­tion of the Gene­va Con­ven­tions, that inter­na­tion­al law also did not apply to the detainees. Even­tu­al­ly, over the protes­ta­tions of the lawyers at the State Depart­ment, this became offi­cial pol­i­cy.
The con­se­quences of this legal vac­u­um range from banal to ter­ri­fy­ing. One of the most basic con­se­quences was that Lehn­ert and his staff had no choice but to cre­ate rules on the fly. Although every body of law con­tains imper­fec­tions, most can be assumed to con­tain much accu­mu­lat­ed wis­dom. Some rep­re­sen­ta­tive prob­lems his team faced includ­ed: How does one pro­vide med­ical care to poten­tial­ly dan­ger­ous detainees with­out risk­ing injury to the med­ical staff? How should the med­ical staff rec­on­cile Mus­lim prac­tices with con­cerns about safe­ty? Many of these prob­lems had to be resolved through the wits of those admin­is­ter­ing Guan­tanamo Bay, and there were cer­tain­ly mis­takes along the way.
A much more ter­ri­fy­ing fea­ture of the absence of law was that it meant that there was no sanc­tion stand­ing between the
detainees and bru­tal, inhu­man treat­ment. Ear­ly on, the Bush admin­is­tra­tion lawyers aggres­sive­ly argued for exclu­sion of the detainees from cov­er­age by the Gene­va Con­ven­tions, with­out exact­ly explain­ing their motives or pur­pos­es. But, as the lawyers at the State Depart­ment pre­scient­ly asked, "If you're not going to vio­late the Con­ven­tions, then why cre­ate the legal space to do so?" As we know now, that legal space was cre­at­ed in part to allow egre­gious vio­la­tions of the Gene­va Con­ven­tions, most notably by allow­ing tor­ture.
How­ev­er, Green­berg also seeks to show how the worst abus­es of the War on Ter­ror could have been avoid­ed. To this end, she pro­vides a com­pelling account of how—in spite of the absence of law and its sanctions—Lehnert man­aged to cre­ate a camp that was remark­ably ordered and humane, con­sid­er­ing the cir­cum­stances. No pris­on­er appears to have been tor­tured on his watch, and great efforts were made to ensure that any abus­es or grave and unnec­es­sary depri­va­tions suf­fered by the pris­on­ers were prompt­ly end­ed, to the extent that this was pos­si­ble. What fac­tors aid­ed Lehn­ert and the oth­er mil­i­tary offi­cials in this endeav­or? Undoubt­ed­ly, there are far more than can be described here, but sev­er­al stand out.
Per­haps Lehnert's great­est tool, in this regard, was the Gene­va Con­ven­tions them­selves. Lehn­ert had received instruc­tions that he was to act con­sis­tent­ly with the Gene­va Con­ven­tions, but should not feel bound by them. He received vir­tu­al­ly no fur­ther guid­ance as to what was meant by this cryp­tic phrase. In the face of this silence, Lehn­ert com­mit­ted him­self to fol­low­ing the Gene­va Con­ven­tions to the great­est extent pos­si­ble, con­sid­er­ing the cir­cum­stances.
Yet apply­ing the Gene­va Con­ven­tions in prac­tice proved to be a rather com­plex endeav­or, and the expe­ri­ence and impar­tial­i­ty of ICRC observers were essen­tial to their suc­cess­ful appli­ca­tion. How far did the camp need to go to com­ply with the Gene­va Con­ven­tions require­ments to respect the reli­gious beliefs of pris­on­ers? How much force was accept­able to main­tain dis­ci­pline? The ICRC rep­re­sen­ta­tives present at the camp were able to give more spe­cif­ic con­tent to the Gene­va Con­ven­tions in order to resolve these and oth­er ques­tions. They helped com­mu­ni­cate the con­cerns of the detainees to mil­i­tary offi­cials, and were also able to pro­vide an impar­tial per­spec­tive on con­flict­ing inter­ests. Although the camp was unable to imple­ment all of the require­ments of the Gene­va Conventions—for exam­ple, it was some time before they were able to set up a secure means of pro­vid­ing recre­ation time to prisoners—they did com­ply with many of its pro­vi­sions.
Unfor­tu­nate­ly, Green­berg does not pro­vide as much pre­cise legal back­ground here as she does in some oth­er sec­tions
of the book. We large­ly learn about the con­tent of the Gene­va Con­ven­tions through the demands that the ICRC makes on the detainees' behalf. How­ev­er, the nar­ra­tive does make clear the impor­tant role that the Gene­va Con­ven­tions played in the gov­er­nance of the camp. They pro­vid­ed stan­dards and norms accord­ing to which the mil­i­tary could work—standards that con­tained the wis­dom of over a hun­dred years of debate and prac­tice regard­ing the treat­ment of prisoners—and helped restrain forces work­ing to make life more dif­fi­cult for the detainees.
There was an obvi­ous down­side to this ad-hoc, unbound approach to imple­ment­ing rules in the camp: the rules could be aban­doned at any time with­out legal con­se­quence, and their sur­vival depend­ed to a large extent on the pres­ence of a lead­er­ship com­mit­ted to their imple­men­ta­tion. Lehn­ert depart­ed after only a few months at the camp and was replaced by lead­er­ship more amenable to the goals of the Bush admin­is­tra­tion, which placed increas­ing pres­sure on the lead­er­ship to aggres­sive­ly inter­ro­gate pris­on­ers. The final sec­tion, or Post­script, of The Least Worst Place briefly sketch­es the changes that occurred in the sev­er­al years fol­low­ing this change in lead­er­ship. Tor­ture occurred, ran­dom abuse by the guards became more com­mon, and pris­on­ers came to feel more iso­lat­ed.
These harms throw the pos­i­tive fea­tures of Lehnert's lead­er­ship into sharp relief, and dri­ve home the impres­sive­ness of his and his staff's accom­plish­ments. One lim­i­ta­tion of Greenberg's account is that the admin­is­tra­tors dur­ing the first 100 days of the camp were not under orders to inter­ro­gate the pris­on­ers, nor did they have to make the dif­fi­cult choic­es that such a mis­sion would entail. As Green­berg makes clear, there are some ten­sions between the goals of deten­tion and the goals of inter­ro­ga­tion, and Lehn­ert and his staff did not have to deal with these ten­sions. One of the most impor­tant ques­tions raised by The Least Worst Place is how these goals could best be rec­on­ciled. Although Green­berg does not address this ques­tion head-on, her account undoubt­ed­ly pro­vides many impor­tant insights in think­ing about this ques­tion.
The Least Worst Place is, at its heart, a sto­ry about a place to which the rule of law was nev­er intend­ed to reach. As such, it does much more than tell a sto­ry about sol­diers and politi­cians squab­bling over the rules that will apply to the detainees under their con­trol. It throws into stark relief the role that law plays in our soci­ety. It rais­es numer­ous ques­tions about just how the Bush administration's nation­al secu­ri­ty pol­i­cy devel­oped and how things could have been done dif­fer­ent­ly. Those who would hope for in-depth, legal­is­tic treat­ment of each of these ques­tions will like­ly be dis­ap­point­ed. Greenberg's legal analy­sis is often brief (though care­ful­ly argued and sup­port­ed). How­ev­er, those look­ing for an exhaus­tive­ly detailed and insight­ful nar­ra­tive account of extra­or­di­nary events that shed light on these ques­tions will be rich­ly reward­ed.