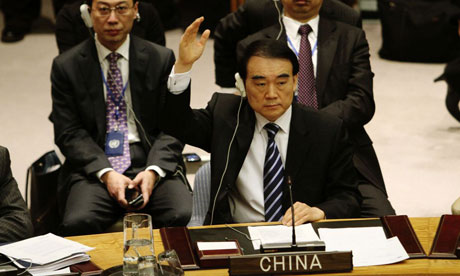 Chinese Attitudes to International Law: China, the Security Council, Sovereignty, and Intervention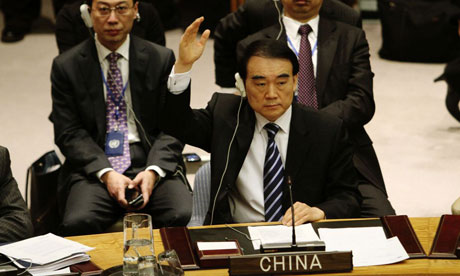 Chi­na veto­ing a Feb­ru­ary 2012 UN Secu­ri­ty Coun­cil res­o­lu­tion.
China's engage­ment with the UN Secu­ri­ty Coun­cil has received close atten­tion since its veto of UN action in Syr­ia in Feb­ru­ary 2012. Some com­men­ta­tors have argued that this veto sig­nals the begin­ning of a more aggres­sive and inde­pen­dent Chi­na, and that it is an indi­ca­tion of its resilience to West­ern and for­eign pres­sure. How­ev­er, this note argues that the sig­nif­i­cance of China's resis­tance to UN action should not be over­stat­ed.
The pro­posed inter­ven­tion in Syr­ia, like in Libya, was jus­ti­fied in legal terms on the basis of the doc­trine of the "respon­si­bil­i­ty to pro­tect" (R2P). Since the gen­e­sis of this doc­trine at the turn of the cen­tu­ry, Chi­na has tried to improve its inter­na­tion­al rep­u­ta­tion as a respon­si­ble pow­er by endors­ing or at least tol­er­at­ing the notion of inter­ven­tion based on R2P. How­ev­er, Chi­na was unable to con­strain the devel­op­ment R2P. The con­cept of R2P came to under­mine the key pil­lars of China's for­eign pol­i­cy, and ulti­mate­ly led Chi­na to veto UN action on Syr­ia.
China's posi­tion on Syr­ia pro­vides a cur­rent and top­i­cal exam­ple of the ten­sion between China's efforts to be regard­ed as respon­si­ble glob­al pow­er and its sup­port of its tra­di­tion­al for­eign pol­i­cy norms of non-inter­ven­tion and sov­er­eign­ty. As out­lined in the note below, every for­eign pol­i­cy deci­sion — from China's rela­tion­ship with rogue regimes to its posi­tion on UN peace­keep­ing — requires Chi­na to bal­ance these inter­ests. While the Syr­ia sit­u­a­tion brought China's for­eign pol­i­cy into the spot­light, assum­ing Chi­na can stall the devel­op­ment of R2P, it will be eager to return to a more low-pro­file for­eign pol­i­cy and a strat­e­gy of absten­tion on Secu­ri­ty Coun­cil res­o­lu­tions.
Click to read the full note Chi­nese Atti­tudes to Inter­na­tion­al Law: Chi­na, the Secu­ri­ty Coun­cil, Sov­er­eign­ty, and Inter­ven­tion.