Of Great Fears and Greater Hopes: The
GPH-MILF

Framework Agreement on the Bangsamoro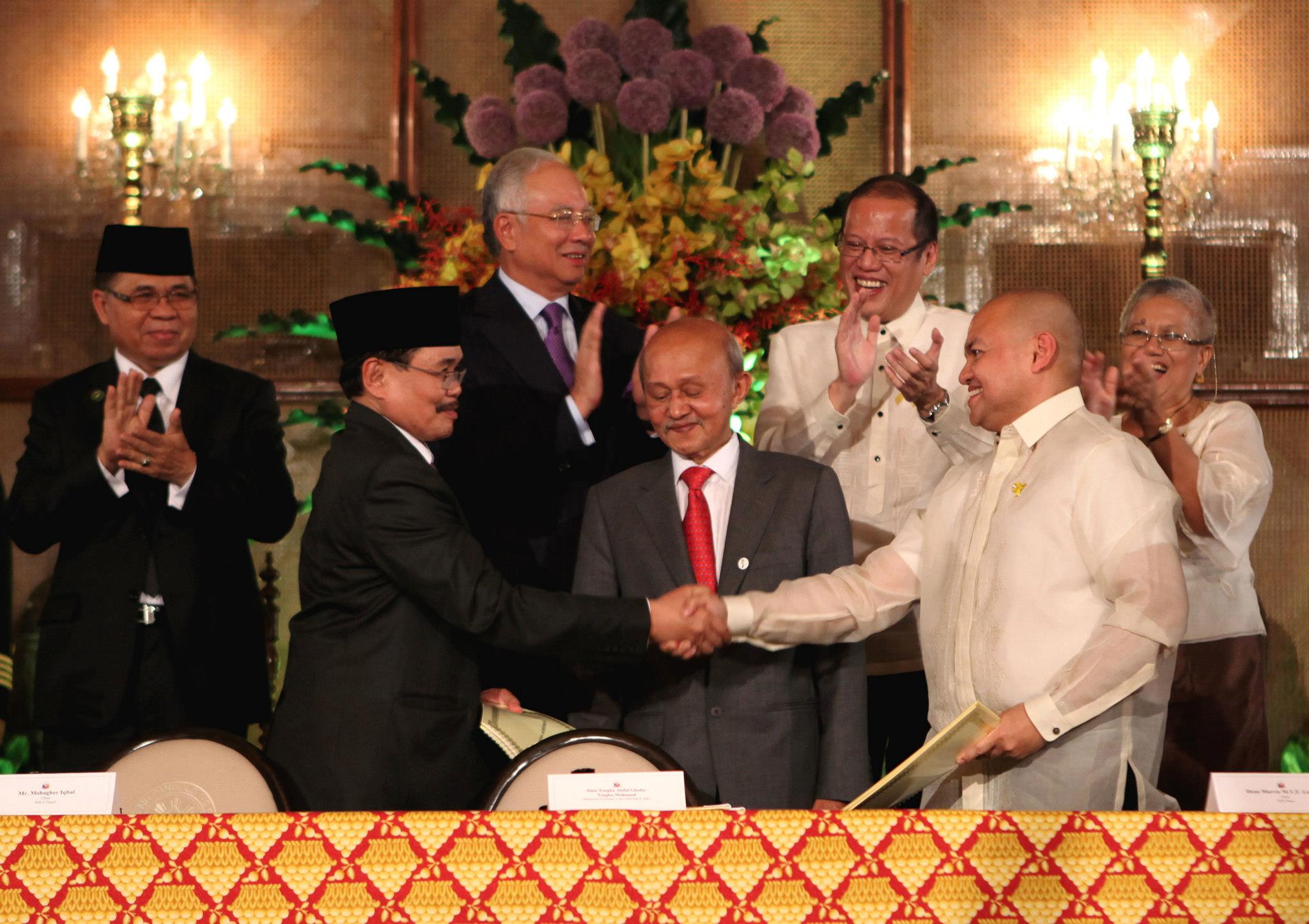 By: Celeste Marie R. Cruz[*]
Pro­logue
Peace and eco­nom­ic devel­op­ment have long remained elu­sive to the con­flict-torn region of Mus­lim Min­danao in the Philip­pines. Since the late 1960s, the Con­flict in Min­danao, led by a seces­sion­ist inde­pen­dence move­ment of the Islam­ic minor­i­ty in a pre­dom­i­nant­ly Catholic coun­try,[1] has led to an enor­mous loss of life and suf­fer­ing, claim­ing an esti­mat­ed 120,000 lives and dis­plac­ing more than 2 mil­lion peo­ple.[2] The ongo­ing peace process between the Gov­ern­ment of the Repub­lic of the Philip­pines (GPH), under Pres­i­dent Benig­no Aquino III, and the Moro Islam­ic Lib­er­a­tion Front (MILF) reached a sig­nif­i­cant mile­stone with the sign­ing of the Frame­work Agree­ment on the Bangsamoro[3] (Frame­work) last Octo­ber 15, 2012. The Frame­work seeks to estab­lish a "fed­er­al" type of sub-state in the said region[4] that is cur­rent­ly under the juris­dic­tion of the Autonomous Region in Mus­lim Min­dano (ARMM).
The ARMM itself is actu­al­ly the prod­uct of a decades-long peace process between GPH and the MILF's "moth­er" group, the Moro Nation­al Lib­er­a­tion Front (MNLF).[5] The 1976 Tripoli Agree­ment between the Philip­pine gov­ern­ment, under then-Pres­i­dent Fer­di­nand E. Mar­cos, and the MNLF for­mal­ized the idea of an autonomous arrange­ment for Mus­lim Min­danao with­in the con­fines of the Philip­pine state.[6] There­after, the 1987 Con­sti­tu­tion of the Philip­pines specif­i­cal­ly man­dat­ed the estab­lish­ment of an autonomous region in Mus­lim Min­danao,[7] and in 1989, the Philip­pine Con­gress passed the Organ­ic Act estab­lish­ing the ARMM.[8] In 2001, the same Organ­ic Act was even amend­ed "to strength­en and expand" its pro­vi­sions,[9] as part of the terms of the final peace agree­ment between the Philip­pine gov­ern­ment, under then-Pres­i­dent Fidel V. Ramos, and the MNLF.[10] How­ev­er, after the MNLF offi­cial­ly relin­quished the strug­gle for the inde­pen­dence of Mus­lim Min­danao through the 1976 Tripoli Agree­ment, the MILF was formed by dis­sent­ing MNLF mem­bers to resume their sep­a­ratist strug­gle, and thus to con­tin­ue the armed con­flict lead­ing up to the cur­rent peace nego­ti­a­tions.[11]
In the inter­est of peace, but per­haps also due to the region's vast nat­ur­al resources (includ­ing ener­gy and min­er­als with an esti­mat­ed val­ue of one tril­lion U.S. dol­lars[12]) and its strate­gic loca­tion for ship­ping inter­ests,[13] the inter­na­tion­al com­mu­ni­ty has a keen inter­est in the suc­cess of this peace process.[14] How­ev­er, despite its mer­its as a step clos­er towards peace, the Frame­work is mere­ly prepara­to­ry in nature and is not yet the actu­al peace agree­ment.[15]As explained by acclaimed con­sti­tu­tion­al­ist Fr. Joaquin G. Bernas, S.J., the Bangsamoro Basic Law (BBL) itself—to be passed by the Philip­pine Con­gress and approved in a plebiscite by the con­cerned con­stituent units—will be the full peace agree­ment with the MILF.[16]
New Polit­i­cal Body
The Frame­work declares that the new Bangsamoro polit­i­cal body (BG) shall be estab­lished to replace the ARMM. It also plain­ly declares that its form of gov­ern­ment shall be "min­is­te­r­i­al,"[17]—with­out fur­ther elaboration—but it is being explained to be par­lia­men­tary by the GPH and rep­re­sen­ta­tives of MILF to the media.[18] It shall be gov­erned by the BBL,[19] suc­ceed­ing the Organ­ic Act that estab­lished the ARMM.[20] Its ter­ri­to­ry shall be com­posed of the present geo­graph­i­cal area of ARMM plus at least 12 oth­er munic­i­pal­i­ties.[21]
Inter­est­ing­ly, the Frame­work also expands the def­i­n­i­tion of the "Bangsamoro" peo­ple or iden­ti­ty to include all descen­dants of orig­i­nal inhab­i­tants of Min­danao, Sulu, and Palawan Islands, at the time of col­o­niza­tion, and that they shall have the right to iden­ti­fy them­selves as Bangsamoro by ascrip­tion or self-ascrip­tion.[22] Under the ARMM's Organ­ic Act, the Bangsamoro peo­ple are defined as Fil­ipino "cit­i­zens who are believ­ers in Islam and who have retained some or all of their own social, eco­nom­ic, cul­tur­al, and polit­i­cal insti­tu­tions."[23] Hence, Fr. Bernas opines that the more spe­cif­ic def­i­n­i­tion of the Bangsamoro iden­ti­ty under the ARMM Organ­ic Act is more "accept­able" con­sid­er­ing that the Frame­work con­sol­i­dates the iden­ti­ties of oth­er indige­nous peo­ples of these islands, who may not be of the Islam­ic faith, with the Bangsamoro.[24] The expand­ed def­i­n­i­tion under the Frame­work is a sweep­ing gen­er­al­iza­tion, con­sid­er­ing that in the island of Min­danao alone, there are around 18 non-Mus­lim indige­nous eth­nic groups, col­lec­tive­ly known as the "Lumad," with a pop­u­la­tion of approx­i­mate­ly 9 mil­lion.[25] How­ev­er, in the cur­rent ter­ri­to­ry of the ARMM, the Lumads are clear­ly a minor­i­ty, num­ber­ing around 60,000—accounting for 2% of the pop­u­la­tion, while the Mus­lims' approx­i­mate num­ber of 2.5 mil­lion account for 90%.[26]
Nov­el Fea­tures of a Frame­work
The Frame­work itself is incom­plete, as its four "Annex­es" on its Arti­cles on "Pow­er Shar­ing,"[27] "Wealth Shar­ing,"[28] "Tran­si­tion­al Arrange­ments and Modal­i­ties,"[29] and "Nor­mal­iza­tion"[30]—aimed to be com­plet­ed by the sec­ond quar­ter of 2013—will con­tain cru­cial details that were pur­pose­ly left out by the Par­ties.[31] Thus, the Framework's ten­ta­tive nature makes it some­what pre­ma­ture for legal scruti­ny, con­sid­er­ing that its legal­i­ty under the Philip­pine Con­sti­tu­tion would hinge on the upcom­ing details. How­ev­er, despite this lack of detail, there are fea­tures of the Frame­work that patent­ly dif­fer from those of the cur­rent Organ­ic Act.
The Frame­work declares the GPH-BG rela­tion­ship to be "asym­met­ric,"[32]—with­out explic­it­ly stat­ing which par­ty is favored by such asymmetry—with the for­mer hav­ing "reserved pow­ers,"[33] encom­pass­ing, among oth­ers, com­mon mar­ket and glob­al trade,[34] and defense and exter­nal secu­ri­ty.[35] BG shall have "exclu­sive pow­ers" and "con­cur­rent pow­ers" to be shared with GPH.[36] Con­sid­er­ing that the GPH retains pow­ers over for­eign pol­i­cy, the reg­u­la­tion of the whole Philip­pine econ­o­my, and nation­al defense, it is rea­son­able to con­clude that the GPH is favored by this assy­met­ric rela­tion­ship, in line with its sov­er­eign­ty over the whole of the Philip­pines includ­ing the autonomous region, but with cer­tain con­ces­sions of pow­er to the BG lim­it­ed to the latter's region­al ter­ri­to­ry.
How­ev­er, the Frame­work removes the Cen­tral Government's exclu­sive pow­ers under the ARMM Organ­ic Act[37] over mat­ters such as nation­al elec­tions, and trans­porta­tion and com­mu­ni­ca­tions.[38] These, along with the expan­sion of both the autonomous ter­ri­to­ry[39] and juris­dic­tion of the Shari'ah or "Mus­lim" courts,[40] appear to con­sti­tute the deci­sive dif­fer­ences between ARMM and the BG—marking a real and fur­ther shift in pow­er away from the Cen­tral Gov­ern­ment and towards the region­al gov­ern­ment.
On "Wealth Shar­ing," the most notable fea­ture of the Frame­work is the BG's pow­er to cre­ate its own audit­ing body, with­out prej­u­dice to the author­i­ty of the nation­al and con­sti­tu­tion­al­ly-cre­at­ed Com­mis­sion on Audit (COA).[41] How­ev­er, while this appears to be con­sis­tent with BG's goal of fis­cal auton­o­my, such an unprece­dent­ed struc­ture would entail a mas­sive juris­dic­tion­al and logis­ti­cal chal­lenge. Under the ARMM Organ­ic Act, the audit­ing func­tion is explic­it­ly under the exclu­sive domain of the Cen­tral Gov­ern­ment,[42] and the COA nev­er had to share its gen­er­al audit­ing author­i­ty with that of an equiv­a­lent or sim­i­lar body from any region­al government—autonomous or not. More­over, if the BG audit­ing body's author­i­ty would be with­out prej­u­dice to that of the COA, the exis­tence and oper­a­tion of the new body might only serve as both addi­tion­al bureau­crat­ic red-tape that ham­pers effec­tive pub­lic ser­vice and as venue and oppor­tu­ni­ty for graft and cor­rupution.
Addi­tion­al­ly, there could be a cause for con­cern with the Framework's implic­it promise for an even larg­er share in the rev­enues of nat­ur­al resources exploita­tion in favor of the BG. While the Frame­work only explic­it­ly states that the BG "shall have a just and equi­table share"[43] there­on, this is arguably a pre-text for the rene­go­ti­a­tion of the cur­rent rev­enue shar­ing arrange­ment under the ARMM Organ­ic Act.[44] While an increased share from such rev­enues is indeed con­gru­ent with the BG's goal of fis­cal auton­o­my, it like­wise increas­es the like­li­hood and stakes for graft and corruption—one of the prob­lems that has long belea­guered the region's cur­rent autonomous gov­ern­ment. More­over, con­sid­er­ing the still-frag­ile rela­tion­ship between the MILF and the GPH, the small and remote risk that the poten­tial­ly huge sums involved here may be used by the lead­ers of the pro­posed fed­er­al sub-state to finance a seces­sion in the future should still be dili­gent­ly assessed and pre­pared for. Hope­ful­ly, these con­cerns would be ade­quate­ly addressed in the upcom­ing Annex there­on.
On "Tran­si­tion­al Arrange­ments and Modal­i­ties," the Frame­work calls for the cre­ation of an inde­pen­dent 15-mem­ber Tran­si­tion Com­mis­sion,[45] which shall draft the BBL.[46] How­ev­er, the Frame­work pro­vides no qual­i­fi­ca­tions for their appoint­ment. More­over, Exec­u­tive Order No. 120,[47] which con­sti­tut­ed the said Com­mis­sion, fund­ed the same with an ini­tial allo­ca­tion of 100 mil­lion pesos—an amount which is arguably exces­sive for its pur­pos­es. Thus, the Commission's com­po­si­tion and fund­ing could, again, become a del­i­cate and high­ly politi­cized issue with the poten­tial to repli­cate the same con­cerns (i.e., cor­rup­tion and inequitable rep­re­sen­ta­tion) that led to MILF's dis­sat­is­fac­tion with the present ARMM.
Final­ly, the Frame­work defines "Nor­mal­iza­tion" as the means through which "com­mu­ni­ties can return to con­di­tions where they can achieve their desired qual­i­ty of life, which includes the pur­suit of sus­tain­able liveli­hoods and polit­i­cal par­tic­i­pa­tion with­in a peace­ful delib­er­a­tive soci­ety." The Frame­work pro­vides that it will achieve this through (among oth­er mea­sures[48]) the decom­mis­sion­ing of the MILF's armed forces,[49] and the estab­lish­ment of "a pro­gram for tran­si­tion­al jus­tice to address the legit­i­mate griev­ances of the Bangsamoro peo­ple, cor­rect his­tor­i­cal injus­tices, and address human rights vio­la­tions."[50] Unfor­tu­nate­ly, the Frame­work only pro­vides this one-sen­tence pro­vi­sion on tran­si­tion­al jus­tice and does not appear to make the lat­ter a cen­ter­piece pro­gram of its over­all nor­mal­iza­tion plan for the region.
How­ev­er, the promised Annex could still deliv­er suf­fi­cient details that would lay the foun­da­tion for a com­pre­hen­sive and fea­si­ble pro­gram to be inte­grat­ed in the BBL, so that all the greive­naces, injus­tices, and human rights vio­la­tions that have caused the long­stand­ing con­flict in Min­danao may final­ly and com­pre­hen­sive­ly be addressed. Oth­er­wise, these griev­ances, if left uncheck and unre­solved, will sim­ply become the seeds for a new con­flict in the future. Arguably, the lack of a tran­si­tion­al jus­tice mech­a­nism in the ARMM Organ­ic Act may have been a fore­shad­ow­ing of the latter's failure—moving for­ward with a detailed autonomous gov­ern­ment struc­ture, but with­out a sys­tem to deal with the under­ly­ing and unique inequities and injus­tices that the Bangsamoro peo­ple and oth­ers con­cerned in Min­danao have suf­fered through­out the con­flict.
Nonethe­less, con­sid­er­ing that the ARMM Organ­ic Act does not con­tain any anal­o­gous pro­vi­sion for tran­si­tion­al jus­tice or any sim­i­lar mech­a­nism, the Framework's inclu­sion of the same—regardless of its cur­rent­ly lim­it­ed form—is already praise­wor­thy for its inno­va­tion and due dili­gence in cov­er­ing a sen­si­tive and vital mat­ter.
Many res­i­dents of Mindanao—Bangsamoro and non-Bangsamoro alike—have been killed, dis­placed, and impov­er­ished by the decades-long con­flict.[51] Thus, it is plain to see that effec­tive nor­mal­iza­tion may com­prise both the essen­tial first step and the con­tin­u­ing effort required for the suc­ces­ful imple­men­ta­tion of the peace agree­ment.
Chal­lenges Ahead
Aside from the legal and admin­is­tra­tive con­cerns, among the dif­fi­cul­ties fac­ing the suc­cess of the cur­rent peace process are: (1) the Philip­pine-Malaysia ter­ri­to­r­i­al dis­pute over the east­ern part of Sabah refu­eled by the recent occu­pa­tion of one of its towns by the alleged roy­al armed forces of the Fil­ipino Sul­tanate of Sulu,[52] and (2) the upcom­ing Philip­pine Con­gres­sion­al and local elec­tions in May 2013.
The first chal­lenge is mate­r­i­al con­sid­er­ing that Malaysia is the key medi­a­tor between GPH and MILF and Sabah is one of the 13 mem­ber states of Malaysia. On Feb­ru­ary 11, 2013, an armed group of around 400 indi­vid­u­als arrived in the town of Lahad Datu in Sabah. This group was sent by one of the claimants to the throne of the said Fil­ipino Sul­tanate of Sulu to assert the latter's 100-plus year claim to the ter­ri­to­ry. Pri­or to the for­ma­tion of the Malaysian Fed­er­a­tion in 1963, Sabah, which was for­mer­ly known as North Bor­neo, has long been claimed by both coun­tries. The Philip­pines is claim­ing the ter­ri­to­ry based on the her­itage of the said Sul­tanate, which claims that Sabah was only leased to the British North Bor­neo Com­pa­ny that admin­is­tered the area on behalf of the British Empire.[53]
Hope­ful­ly, this ter­ri­to­r­i­al dis­pute would not neg­a­tive­ly impact Malaysia's role as medi­a­tor. For­tu­nate­ly, even if Malaysia decides to with­draw its sup­port in the ongo­ing peace process, oth­er coun­tries that have expressed sup­port for this cause—such as the Unit­ed States, Japan, Aus­tralia and oth­er Mus­lim-major­i­ty coutries—can still inter­vene, take up Malaysia's role, and help ensure its suc­cess. As for the par­ties them­selves, the said dis­pute has not affect­ed their deter­mi­na­tion to push through with the peace process, with GPH and MILF rep­re­sen­ta­tives explic­it­ly assur­ing the media that the Sabah cri­sis will not derail their efforts.[54] How­ev­er, with this part of the his­to­ry unfold­ing by the day, one can only hope that the GPH will soon achieve the aspired bal­ance in han­dling the issues of peace process, ter­ri­to­r­i­al sov­er­eign­ty and nation­al integri­ty. This bal­ance is like­wise nec­es­sary in order to reduce the risk of disinterest—iif not distrust—tto the peace process, not only of the MILF, Malaysia and/or oth­er stake­hold­ers, but of the Fil­ipino Mus­lims them­selves.
On the oth­er hand, since the BBL needs enact­ment by Con­gress, its even­tu­al com­po­si­tion will affect the opin­ions and choice of the vot­ers in the BBL's plebiscite, if not the pas­sage of the BBL itself. For the BBL to be prop­er­ly real­ized, how­ev­er, the par­ty of the incum­bent admin­is­tra­tion of the GPH should not just con­cen­trate on sup­port­ing the cam­paign of its Con­gres­sion­al can­di­dates, who are, by default, sup­port­ive of the cur­rent peace process. Instead, it should focus more on active­ly cam­paign­ing for the Frame­work itself and their draft BBL, its virtues and its long-term ben­e­fits for the entire coun­try, beyond par­ti­san pol­i­tics.
Despite its flaws, the Frame­work could still prove to be a his­tor­i­cal mile­stone. As it is, the Frame­work is already a pre­cious, elu­sive step clos­er to final­ly achiev­ing peace in Min­danao. It should there­fore be cap­i­tal­ized upon and care­ful­ly fol­lowed through with utmost diplo­ma­cy, intel­li­gent legal scruti­ny, rea­son­able pol­i­tics, and cau­tious opti­mism, all of which will be nec­es­sary in the draft­ing of the forth­com­ing Annex­es and the appoint­ment of key per­son­nel, espe­cial­ly in the Tran­si­tion Com­mis­sion. Thus, the Annex­es should not only fol­low the struc­ture of the Frame­work, but also the con­fines of the Philip­pine Con­sti­tu­tion and prin­ci­ples affirm­ing the Philip­pine state's sov­er­eign­ty over the whole of the Philip­pine ter­ri­to­ry, includ­ing Mus­lim Min­danao. Oth­er­wise, all these efforts could sim­ply be struck down as uncon­sti­tu­tion­al by the Philip­pine Supreme Court exer­cis­ing its pow­er of judi­cial review.
________________________
* Celeste Marie R. Cruz obtained both her Man­age­ment-Eco­nom­ics and Juris Doc­tor Degrees from the Ate­neo de Mani­la Uni­ver­si­ty, Philip­pines. She is a mem­ber of the Philip­pine Bar and is cur­rent­ly pur­su­ing her Tra­di­tion­al Mas­ter of Laws Degree at NYU School of Law as a recip­i­ent of the Hauser Glob­al Schol­ar­ship. She worked for three years as an asso­ciate of SyCip Salazar Her­nan­dez Gat­mai­tan, the Philippine's biggest and lead­ing law firm. After­wards, she moved to the pub­lic sec­tor as a Direc­tor of the Sen­ate of the Philip­pines' Over­sight Com­mit­tee on Pub­lic Expen­di­tures. She is a pro­fes­so­r­i­al lec­tur­er (on study leave) at the De La Salle-Far East­ern Uni­ver­si­ties MBA-JD Pro­gram in Mani­la, Philip­pines. At NYU Law, she is a grad­u­ate edi­tor of the Jour­nal of Inter­na­tion­al Law and Pol­i­tics and an awardee of the Thomas M. Franck Schol­ar­ship for Inter­na­tion­al Law, as well as of the Tran­si­tion­al Jus­tice Lead­er­ship Pro­gram Schol­ar­ship.